If you're anything like us, you tend to wait until the last minute to do your shopping, even if it's online and only takes a couple of clicks. Now, while there's no guarantee that these gifts will get to your intended recipients *by* Christmas, it's 2020, y'all. Just shrug and say "Sorry, COVID made shipping horrible." You have the excuse, might as well use it, right?
So, if you're looking for something for yourself (those gift cards you're going to get have to be spent on something, right?) or someone else (my daughter only watches horror movies – I have no clue what to get her!!), please browse our selection of all sorts of goodies that are (mostly) sourced from small business owners.
In this, our year of Covid 2020, anything goes. Even stabby knife necklaces, you know?
If they're a fan of Scream or Halloween then they might like this bloody knife
Suggested by Lilyn
---
Do they take pride in their lawn? Love a little Friday the 13th? Who wouldn't like this lovely garden gnome!
Suggested by Lilyn
---
Or maybe they're the shirt type? Check out this Hannibal Lecter from Silence of the Lambs shirt for the foodie in your life!
Chosen by Lilyn
---
Do they like to get lost in the foggy streets of Silent Hill? Have a hankering for that special someone's 'Great Knife'? Then they might like this sexy, sexy Pyramid Head.
Suggested by Gracie
---
Do they like to get lost in the robes of The King in Yellow? They might like to get lost in these interactive visual novels based on the works of Robert W. Chambers.
Suggested by Gracie
---
Would they like to snuggle with Cthulhu but the whole "Eater of Worlds" thing gets in the way? This spectacularly tentacularly body pillow woud be just the thing to hug it up the rest of the winter! *Psst, Gracie takes donations of large tentacle pillows*
Suggested by Gracie
---
Mmm, what's that aroma? Is it the sweet scent of tainted sugar (Merricat, Merricat)? Did you dream of Manderley again while smelling the scent of burnt honey? Then you might have wandered into Kristi DeMeester's candle shop with horror-inspired candles and scents!
Give the gift of burning love to your friends and family. Scents are inspired by horror books and movies such as The Craft, Twin Peaks, Halloween, We Have Always Lived in the Castle, and Carrie.
Suggested by Suz Jay
---
Start off 2021 without all that bad 2020 mojo by gifting a female-centric tarot deck. This beautifully-illustrated black, white, and red deck provides a fresh approach to tarot.
Suggested by Suz Jay
---
The Child animatronic toy for those who need Baby Yoda in their daily lives. Because, truthfully, we all could use more Baby Yoda.
Suggested by Eliza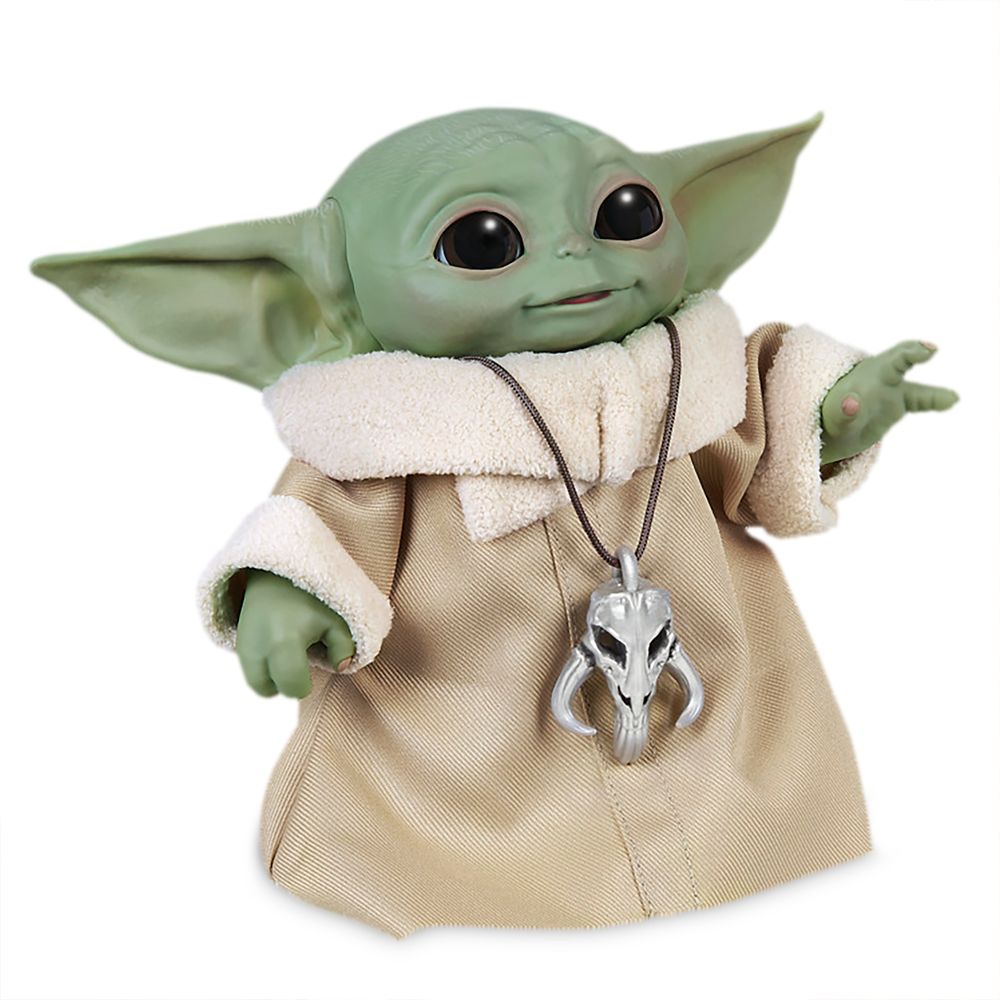 ---
Want to fight the plague and be heroes alone or co-operative on the same keyboard? Then check out Inseparable from indie dev BeatBullGames.
---
Now that 2020 is almost over they might need a planner to schedule up 2021 ahead of time! Why not indulge in a 12-month witchy planner?
Suggested by Eliza
---
Need that extra-magical way to send off 2020? Buy your special, fed-up someone this unicorn mug!
Suggested by Eliza
---
Get your family to trade in their weird holiday sweaters for gear that promotes reading scary books. Come on, Aunt Edna could use a little more excitement in her life, don't ya think?
Suggested by Suz Jay
---
Keep your loved ones looking stylish while protecting themselves and others. There's a pattern and style for everyone.
Suggested by Suz Jay
---
Not only can you give someone the world, you can give them the best of many worlds with this fantasy and science fiction anthology of stories selected by the author of the beloved Outlander series.
---
Got that special someone who loves a mix of medieval art and robots? Knock several people off your gift list with this pack of holiday mugs that feature giant robots, pterodactyls, and zombie poodles. Fill them with goodies such as hot chocolate and biscotti and delight four friends.
Suggested by Suz Jay
---
We cover a lot of horror here but the biggest horrorshow this year has certainly been 2020 itself. If you're as sick of this year as we are and want the perfect ornament for the tree to encapsulate the whole gestalt of this year then adorn your pine with this gorgeous ornament.
Suggested by Eliza
---
Have a giftee who loves Christmas but keeps it spooky 365? Horrornaments are the answer! Great for Christmas and Halloween villages!
Suggested by Sam
---
This may be stretching it but Pac-Man has ghosts. So if you squint real hard and take a few steps to the right it's almost close to the horror genre. Did you also know Timex has this awesome Pac-Man watch? 'Cause they do.
This Timex Pac Man watch is super nerdy and very cool. Available in silver, gold or black tones.
Suggested by Olly
---
We've all lost someone, and whether it was to the pandemic, old age, or anything in between, it's okay to acknowledge that loss, to mourn it. If you're looking for a print, journal, etc, that is gorgeous and old-timey for that certain someone in your life, you might consider this:
Suggested by Lilyn
---
We all know that person (It me!- Lilyn) that is introverted AF and nobody around them seems to get it. If they're also a sci-fi nerd, I highly recommend this – available as several things Redbubble offers, though I have a preference for the throw pillow version!
Suggested by Lilyn
---
It's a sloth. In a spacesuit. If you've got absolutely no one in your life that might appreciate this, you can buy it for me.
Suggested by Lilyn
---
FIrefly will always be a good choice. Check out this shirt for you, your loved ones, or any of us today.
Suggested by Lilyn
---
We hope you enjoyed this guide and that we've encouraged you to support small businesses as 2020 finally gets laid to rest. We survived the year from hell, y'all. Time to celebrate and buy each other things we don't need but most definitely want. – The Kali Krew
GracieKat was the first co-host of Sci-Fi & Scary, Lilyn's partner-in-crime, and sub-head of the Kali Krew. She reviews horror books, movies, and games for the site. She also does a weekly Focus on the Frightful feature, and is the site list-maker. She is also in control of the Sci-Fi & Scary podcast which will relaunch soon.